November 14th, 2011
Wish every kid on the planet a happy children's day! 🙂


I decided long ago, never to walk in anyone's shadows
If I fail, if I succeed
At least I live as I believe
No matter what they take from me
They can't take away my dignity
Because the greatest love of all
Is happening to me
I found the greatest love of all
Inside of me
The greatest love of all
Is easy to achieve
Learning to love yourself
It is the greatest love of all

I believe the children are our future
Teach them well and let them lead the way
Show them all the beauty they possess inside
Give them a sense of pride to make it easier
Let the children's laughter remind us how we used to be
Today google has a special image: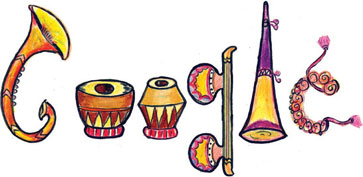 New Delhi: Some Google users in India might not have immediately established the connection between a tabla, sitar, shehnai and other Indian musical instruments and the Children's Day doodle.

The doodle that Google India put on its home page to celebrate Children's Day, the birthday of the first Indian Prime Minister Jawaharlal Nehru, was created by Varsha Gupta, a Class III student from Ryan International School, Greater Noida. Varsha was chosen as the winner of this year's Doodle 4 Google competition organised by Google.

Google had announced that it would put the winning Doodle 4 Google entry on the Google India homepage on Children's Day – 14th November 2011.

Explaining her doodle, Varsha writes, "India is a land of different cultures. In India, music plays a very important role. India has given many musical instruments to the world. Goddess Saraswati plays Veena, God Shiv plays Damaru. According to our mythological stories musical instruments used to be played on all the occasions. Even during war musical instruments were played. Lord Krishna's flute is known in the whole world for its magical music. In modern days Mr. Zakir Hussain is world famous as Tabla Mastro and Pandit Shiv Kumar Sharma is known as a great Santoor player all over the world".
~ IBN Live
I hear babies cryin', I watch them grow
They'll learn much more, than I'll ever know
And I think to myself
What a wonderful world
On this children's day I'd like to remind myself to take care about not to letting any of my ambitions or failed dreams affect any of the children in my life! 🙂
The best way of celebration would be to live Kahlil Gibran's words…
And a woman who held a babe against her bosom said, "Speak to us of Children."
And he said:
Your children are not your children.

They are the sons and daughters of Life's longing for itself.

They come through you but not from you,

And though they are with you, yet they belong not to you.

You may give them your love but not your thoughts.

For they have their own thoughts.

You may house their bodies but not their souls,

For their souls dwell in the house of tomorrow, which you cannot visit, not even in your dreams.

You may strive to be like them, but seek not to make them like you.

For life goes not backward nor tarries with yesterday.

You are the bows from which your children as living arrows are sent forth.

The archer sees the mark upon the path of the infinite, and He bends you with His might that His arrows may go swift and far.

Let your bending in the archer's hand be for gladness;

For even as he loves the arrow that flies, so He loves also the bow that is stable.